Go Anywhere with CellBlock FCS.
CellBlock Battery Cases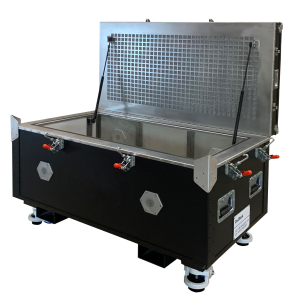 CellBlock Transportation and Storage Cases are a superior solution for the safe transport or storage of lithium-ion batteries and devices containing them. These cases are engineered, not just to contain a thermal event, but to completely suppress a fire. In a recent test by Underwriters Laboratories and Stress Engineering Group, the cases were proven to completely prevent propagation in Class D lithium-ion batteries. Ship by land, air, or sea with complete peace-of-mind.
Intelligent Construction
Our battery storage cases are assembled from CellBlock FCS rigid panels and CellBlockEX fire-suppressant insulation within an aluminum shell. When batteries or devices within the unit experience a thermal event, the panels insulate the outside of the box from the extreme heat, while the CellBlockEX granulate serves as both a fire extinguisher and a filter, absorbing harmful fumes.
Brilliantly Simple Deployment
When flames are present, CellBlockEX fire-suppressant media is automatically released from inside the lid and immediately works to extinguish the flame and halt propagation. After such an event, the case may be recharged for continued use.
Features and Benefits:
The safest box on the market for DDR batteries, devices, prototype batteries, etc.
Vents allow safe release of pressure pulse from an explosion
CellBlockEX insulation effectively uptakes smoke and gas
Can be manufactured in nearly any size and shape
Brilliantly simple implementation and deployment
Specifications:
SMALL CASE
50cm x 43cm x 25cm
(20" x 17" x 10")
Tare Weight: 18.1 kg (40 lbs.)


4B/X30/S/**/USA/M6484
---
LARGE CASE
76cm x 43cm x 25cm
(30" x 17" x 10")
Tare Weight: 26.3 kg (58 lbs.)


4B/X48/S/**/USA/M6484
---
XLARGE CASE
130cm x 72cm x 61cm
(51.25" x 28.25" x 24")
Tare Weight: 134 kg (296 lbs.)


4B/X400/S/**/USA/M6484
---
Custom sizes available. Please enquire.
CellBlock Transportation and Storage Cases are being used in passenger cabins of airplanes and, with the proper authorization, can be used in cargo compartments as well.
The cases are available in polished aluminum, or can be powder coated with corporate color and custom branded.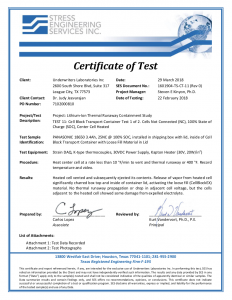 Collaborative test by Stress Engineering Group and Underwriters Laboratories on CellBlockEX and the CellBlock Transportation/Storage Cases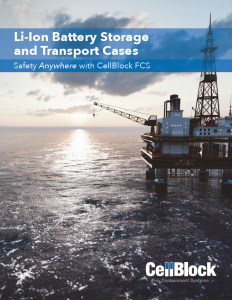 Safely transport and store lithium-ion batteries and devices by land, air or sea.