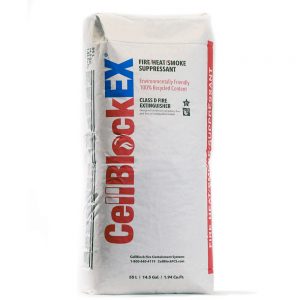 True Blue Fire Suppression
The most trusted name in battery safety provides proven solutions to help you store or ship lithium-ion batteries.
CellBlockEX is the environmentally-friendly, mineral-based extinguishing agent used for fire fighting and prevention of problematic fires including metal, lithium-ion battery cells, and combustible liquids. The small lightweight spheres of CellBlockEX are composed of non-crystalline glass granulates repurposed from recycled glass with tiny pores on the inside. The engineered formulation of grain sizes produces optimal fire suppression results, and can be adjusted for varied industrial applications. Since the granulate is 100% mineral based – it's safe for you and the environment.
Ship batteries with confidence by land, air or sea. CellBlockEX is at the core of many of our shipping solutions, including Class-D packaging for damaged, defective, and recycled (DDR) lithium-ion batteries.
The Vermiculite Challenge
While environmental and health advantages elevate CellBlockEX's value over Vermiculite, how do the two compare in fire suppression capabilities? The short answer: they don't. While vermiculite provides certain protections, only CellBlockEX offers active fire suppression. Watch the video for the test results.
How does CellBlockEX compare to other aggregates? Download our Aggregates Comparison »
CellBlockEX is a
TRUE BLUE

Class-D Shipping Solution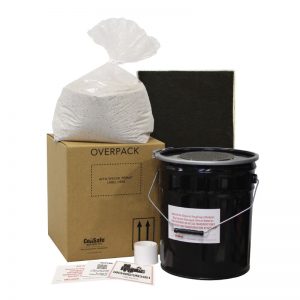 CellBlockEX provides protections in special CellSafe packaging designed for recalls and recycling of consumer batteries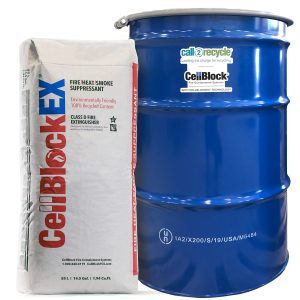 CellBlockEX HazMat Drums have earned a special permit from the DOT when CellBlockEX is used as a filler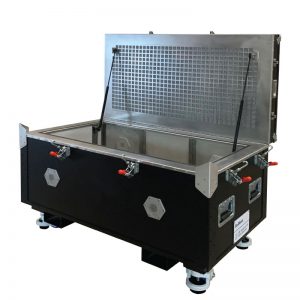 In tests performed by Stress Engineering Group and Underwriters Laboratories, CellBlockEX halted lithium-ion battery fire propagation in our Transportation and Storage Cases
How Does CellBlockEX Work?
Suffocation Effect
Covering the fire load with CellBlockEX granulate displaces oxygen and separates it from the fuel. The fire is suffocated.
Cooling Effect
Due to its specific thermal capacity, CellBlockEX absorbs heat energy, thereby cooling the fire. The thermal reaction is disrupted.
Isolation Effect
Like glass, CellBlockEX melts at a high temperature. The granulates absorb heat in the process of melting, cooling the fire while forming an impervious glass layer over the fire load. A reaction with oxygen is prevented. Even difficult to control metal fires (i.e., sodium or magnesium) can be extinguished with CellBlockEX.
Gas Tightness
Thanks to the CellBlockEX grain shape, very dense sphere packing is achieved. The supply of oxygen is impeded by the packed bed, and the formation of combustible gases is prevented.
Sorbency of Liquids
The special granulate mixture combined with the porous, and therefore especially large grain surface, effectively binds liquids.
Fire Gas Filtering
Just like liquids, gases and vapors accumulate on the extremely large surface of the CellBlockEX granulate and are bound for disposal.
CellBlockEX is Tested and Proven
How Can CellBlockEX Improve Your Workflow and Safety?
Contact us to learn more about how CellBlockEX is enabling companies to safely ship and store batteries and devices.
Request Information and Pricing