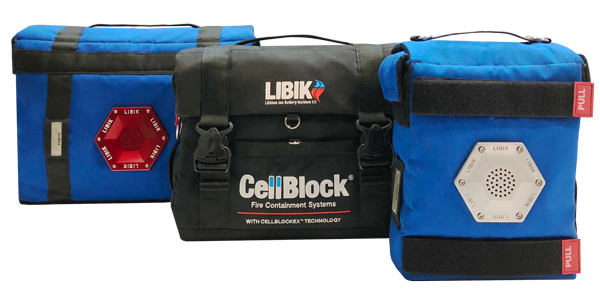 LIBIK-X is Extreme Smoke and Fumes Containment.
In addition to rapid fire extinguishing, the LIBIK fire containment bag has always offered a superior level of smoke and fumes suppression while protecting the fire fighter. Now our second-generation technology offers a near perfect degree of smoke containment previously unavailable.
The LIBIK Filter is the difference.
Device overheating? Place it in the LIBIK kit with confidence. During a thermal runaway a device is likely to vent hazardous vapors and/or explode. The ingenious filter design allows for the release of pressure without expelling harmful fumes.
There are 2 Types of PED Emergencies
While every battery fire will be different, PED (Personal Electronic Device) emergencies can be divided into two basic categories. The LIBIK excels at handling both while protecting the fire fighter/crew member: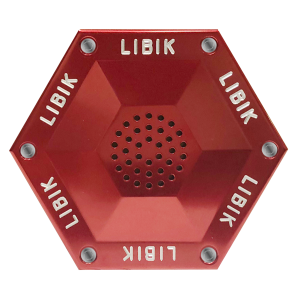 The Device is on Fire
Remove kit contents, including a PED-Pad fire suppression pillow from the LIBIK. Don protective equipment.
The FireShield Blanket included in your kit may be used to safely approach the fire.
Place the PED-Pad over the device to rapidly extinguish active flames and uptake fumes.
Place the FireShield Blanket over the pillow to enhance the suppressive effects and to further protect the fire fighter and surroundings.
Once the PED fire is extinguished and cooled, the device can then be safely handled and placed in the bag using the CellBlock gloves and FireShield Blanket.
A Device is Overheating
Remove kit contents, but leave the PED-Pad fire suppression pillows in the bag.
Use the FireShield Blanket and CellBlock high-heat gloves to safely transfer the device to the bag.
The interior of the bag is lined with PED-Pad fire suppression pillows containing CellBlockEX dry media. These PED-Pads will automatically release the CellBlockEX in the event of a thermal runaway.
The CellBlockEX extinguishes the fire and uptakes smoke, gases and flammable electrolyte associated with a lithium-ion battery fire.
The bag will safely contain any explosion or out-gassing with very minimal release of fumes or smoke.
LIBIK-X Bags:
In the event of out-gassing or explosion, the bag will safely vent though the LIBIK filter.
What's in a Kit?
The LIBIK is more than just a lithium battery bag. Each LIBIK contains the protective gear and containment tools you need to fight an inflight battery fire. Every kit includes our flame-proof FireShield Blanket and CellBlock High Heat Gloves, plus our extremely effective PED-Pad fire-suppression pillows. Kit options can include personal protection equipment as well.