Solutions to Difficult to Control Lithium-ion Battery Fires
Stored energy is increasingly present in our communities – from small hand held devices to large EV batteries and power walls. While lithium-ion technology is generally safe, it nonetheless poses a dormant, but potentially devastating threat to public safety. CellBlock FCS specializes in providing the necessary tools to address a battery fire when it occurs. Understanding how these tools work is essential to success.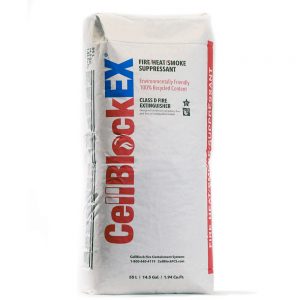 The core technology of CellBlock's fire-suppression solutions is CellBlockEX, an environmentally-friendly, mineral-based extinguishing agent used for fire fighting and prevention of problematic fires including metal, lithium-ion battery cells, and combustible liquids. The small lightweight spheres of CellBlockEX are composed of non-crystalline porous glass granulates repurposed from recycled glass. The engineered formulation of grain sizes produces optimal fire suppression results. Since the granulate is 100% mineral based, it's safe for you and the environment.
CellBlockEX is packaged as a loose-fill material for use as a fire suppressant filler in packaging and storage solutions. It can also be found in the lining of CellBlock's drum, cabinet, and case walls, where it provides gas filtering and thermal protection. Passive fire suppression is provided when CellBlockEX is deployed from PED-Pad pillows, cabinet and rack shelves, and case lids.
CellBlock FCS helps you mitigate risk when you ship or store lithium-ion batteries or other hazardous materials with CellSafe and CellSafe MAX Drums.
CellSafe Drums
Best-in-class solution for shipping or recycling damaged and non-damaged, recalled, spent, and prototype lithium batteries, as well as mixed use non-lithium — up to 300 Wh
UN-rated and certified with CellBlockEX used as the packaging filler
Environmentally-friendly packaging uses no vermiculite or mineral oil
Ship domestically or internationally
Subject to DOT SP-20549
Ship up to 132 lbs (60kg) of damaged batteries
CellSafe MAX Drums
Designed for high watt hour batteries (over 300Wh) with the same features as the CellSafe Drum PLUS:
Patent pending thermal runaway containment technology
Filter system safely releases pressure while preventing ignition of outgassing
Most economical performance packaging for high-energy battery storage or shipping
Special Permitted for transport of DDR and non-DDR batteries over 300 Wh — up to 1000 Wh
Constructed from durable flame-resistant fabrics, our fire blankets are integral to our emergency preparedness kits and are a valuable multi-purpose tool in tackling lithium-ion battery fires. They are available in several standard sizes, or may be custom-configured for your application.
Use as a personal shield when approaching a battery or device in thermal runaway.*
Use to protect surrounding surfaces when dealing with a compromised personal electronic device (PED).
Use as an additional containment layer in conjunction with our PED‑Pads to extinguish a fire.
Available in Standard or High Watt Hour.
*The use of personal safety equipment, such as high heat gloves, goggles and masks, is also recommended. Our products have been tested extensively in-house and by third-party laboratories. Enquire about custom sizes.
The CellBlock Drum Plug is a simple approach for the safe and rapid mitigation of lithium-ion battery thermal events. When combined with high heat gloves, FireShield blankets, and a suitable-sized steel drum (CellSafe or other off-the-shelf brand). For a best practice solution, maintain a few inches of CellBlockEX in the bottom of the can to enhance heat absorption. Using the protective gloves and blanket, approach and bundle a suspect battery for transfer to a dedicated emergency drum or can. Drop the appropriately-sized drum plug into the containment can, covering the battery. In the presence of high heat CellBlockEX in the plug will disperse to extinguish and cool thermal events and uptake smoke and fumes.
The Wall-Mounted EHS Kit can be installed on most surfaces for easy access to lithium-battery fire extinguishing tools and safety gear.
Easy access to the kit contents allows for the fastest possible deployment of fire suppression tools and safety equipment, which makes it ideal for emergency management, laboratory environments, hospitals, schools, manufacturing settings, and more.
Each kit includes: