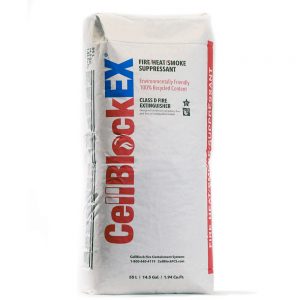 How to Use CellBlockEX
CellBlockEX is an extinguishing agent used for fire fighting and prevention of problematic fires including metal, lithium-ion battery cells, and combustible liquids. The engineered formulation of grain sizes produces optimal fire suppression results. Since the granulate is 100% mineral based, it's safe for you and the environment.
Use as Loose-fill Suppression Media
CellBlockEX can be applied directly to a fire for rapid suppression of flames and uptake of smoke and fumes. If a fire can be safely approached, the loose-fill media can be administered directly from a pail or the original packaging. Extinguishing action begins immediately. This allows a battery fire to be addressed in-place, eliminating the need to move it, proving a safer operating procedure for the fire fighter.
Use as a Fire Prevention Media within Drums
If proactive containment of suspect devices or batteries is a concern, CellBlockEX may be used in conjunction with CellSafe HazMat pail or drums. Pour a layer of loose-fill in the bottom of a pail or drum and place the device, battery, or cell inside. Poor more loose-fill over the top to cover and reseal the pail/drum. The loose-fill media absorbs heat and fumes, providing an effective means of preventing ignition or re-ignition. If thermal runaway does occur, the event will be safely contained. When product recommendations are adhered to – providing adequate space between items – multiple batteries or devices may be stored within one drum. Once full, CellBlock's DOT Special Permit 20549 also allows for shipping of the pail/drum to the appropriate recycling or disposal facility.
CellBlockEX as an Integral Component of Fire Suppression Pillows
CellBlock's fire suppression pillows and drum plugs are an ideal means of CellBlockEX deployment. Place an appropriately size pillow over the top of a device or battery fire to provide centralized dispersement of the fire-suppression media. The pillow textile melts at low temperatures without adding fuel, allowing rapid dispensing of CellBlockEX. Similarly, if a battery is able to be safely moved to a drum or pail, a drum plug may then be lowered on top of it with the same results. A FireShield blanket may also be used to facilitate either process.
Other CellBlockEX Deployment Methods
CellBlockEX is embraced by numerous industries as the gold standard for lithium-ion fire suppression. As such, the deployment method has been adapted to suit each application. It can be dispensed from hoppers or containers, and CellBlock FCS has developed a "brilliantly simple deployment" system that is integral to the design of their cabinets, racks, and cases. If you wish to speak with a product specialist about the best deployment method for your organization, please feel free to reach out to [email protected].