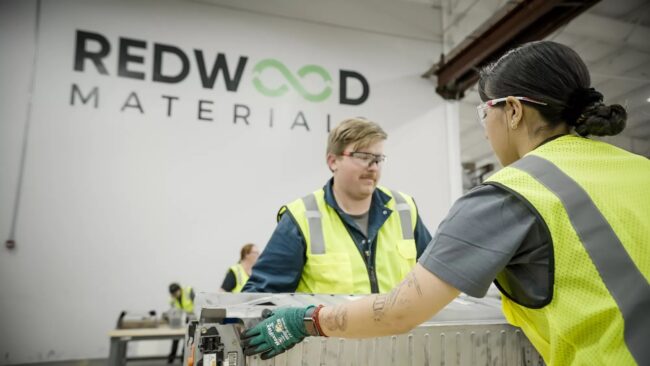 Redwood Materials, already North America's largest battery recycling company, has just raised over $1 billion to expand their operations. The Series D funding round, led by Goldman Sachs Asset Management, Capricorn's Technology Impact Fund, and funds and accounts advised by T. Rowe Price Associates, Inc., will be used to "continue building our capacity, expanding the domestic battery supply chain and allowing our customers to purchase battery materials made in the US for the first time," according to
their website.
Redwood Materials touts its "circular supply chain" for batteries, and boasts that they are producing battery components from recycled batteries for the first time in the U.S. The website goes on to say that the company is focused on "expanding our collection of end-of-life batteries, increasing our refining capability to recover higher quantities, and harnessing their value to make the most sustainable products." The company was founded in 2017 by J.B. Straubel, the founding CTO of Tesla. Earlier this year, the company, headquartered in Carson City, Nevada, 
locked in a $2 billion loan commitment
from the U.S. Department of Energy. Redwood has been manufacturing anode copper foil at their Nevada facility since late 2022 and is in the process of building a Battery Materials Campus outside Charleston, South Carolina. Both campuses will host their recycling, refining and remanufacturing operations. This massive capital infusion is sure to cement Redwood's position as the 800-lb. gorilla in the battery recycling space. Anyone involved in battery recycling would do well to keep an eye on them. Read the
press release
.