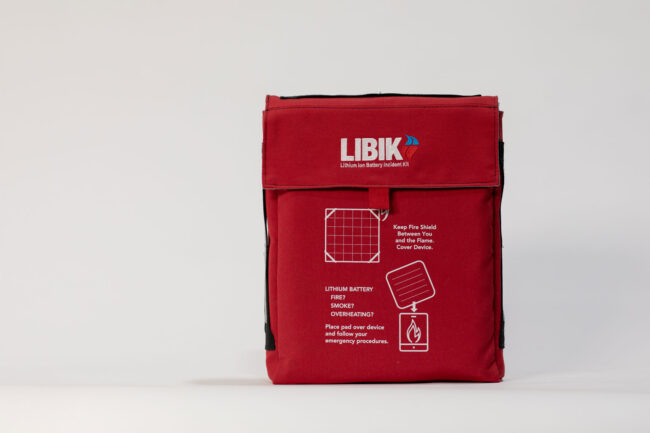 Today we're shining the spotlight on a product we introduced recently to address the need for a moderately-priced solution for quickly responding to battery fires from personal electronic devices (PEDs).
Prompted by a customer's need for a battery fire suppression solution that could be deployed throughout their fleet, the LIBIK Quick Kit was designed to be the perfect supplemental solution, enabling safe handling of a battery fire event while waiting for additional LIBIK tools. What they discovered is that this kit can also be used as by itself to suppress a thermal runaway in personal devices.
Each Kit Contains:
Fire Resistant Storage Bag
Here's how it works:
The PED-Pad pillow, filled with our proprietary fire extinguishing media, CellBlockEX, is placed directly onto the fire or overheating device. The CellBlockEX is automatically deployed and works to extinguish the fire and uptake smoke and fumes. No water or halon is needed.
The FireShield Blanket may be used as a personal shield when approaching a compromised device, or to create a suppressive effect when used in conjunction with PED-Pad pillows. These fire resistant blankets may also be used to handle a device that has been safely extinguished.
The Storage Bag (like the FireShield Blanket, made with CellBlock's proprietary fire-resistant textiles) will safely contain a battery in thermal runaway temporarily, until it's transferred to a more robust containment solution.
In the event of a lithium-ion battery fire or an overheating device, these core fire suppression tools are capable of neutralizing danger on the spot*. Keep a Quick Kit in the office, toss it in the truck of a car, or install it near your existing fire extinguishing equipment.
Find out more or order online.
*Lithium-ion battery fires can be unpredictable and dangerous. Every thermal runaway situation should be assessed carefully and precautions should be taken to mitigate the risk of personal harm. Use of additional PPE may be recommended.