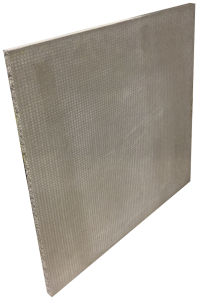 CellBlock FCS panels were originally designed as a fire suppression and safety solution for the storage or transportation of lithium-ion batteries or other dangerous goods. Over the years, however, CellBlock has adapted and transformed this product to serve a variety of purposes in numerous industries.
Our panels are made, through a proprietary process, from environmentally friendly recycled glass aggregates (CellBlockEX), bound with multiple pozzolans and other additives. Panels consist of a core using three different grain sizes of post-consumer foamed glass ranging from 500 microns to 4 millimeters and are finished with a cementitious powder coating containing glass and basalt fibers. CellBlock FCS is an ideal substrate for the construction of high-temperature fire containment shipping and storage containers, ballistic test chambers, fire corridors and floor underlayment.
CellBlock's versatility allows it to meet the fire protection needs of multiple industries including manufacturing and production facilities, building construction, transportation of dangerous goods (land, sea and air), renewable energy storage, military applications (from storing drones to transporting trigger mechanisms) and for archival/museum safekeeping. Lightweight, environmentally friendly, durable and flexible, the panels can be used to line existing structures from walls to shelves and floors or manufactured as self-contained boxes, making them an ideal solution for every industry.
Features
Available in two sizes: 2'x4' and 3'x5'
Manufactured in four thicknesses: ½", 1", 2" and 4"
depending on the structural loading and deflection
requirements needed to safely contain fire or
dangerous goods
A 2.54cm (1") panel can tolerate direct heat in excess
of 1100°C (2012°F) up to 6 hours with negligible heat
transfer to the outside surface
High insulating properties and low thermal
conductivity: in 3 hour direct flame tests, backside of
tile did not exceed 175°C (350°F)
Strong and simultaneously light weight with 60–70%
air by volume and densities as low as 640kg/m3
(45lbs/ft3)
Benefits
Green: 100% mineral-based, environmentally safe and reusable
Can be manufactured in other sizes or assembled in box form
Unaffected by heat, moisture, and chemicals
Insect, bacteria and mold resistant
Lightweight, durable and easy to install
Exceeds DOT requirements for safe transport
Surpasses ASTM e136 requirements for non-combustibility