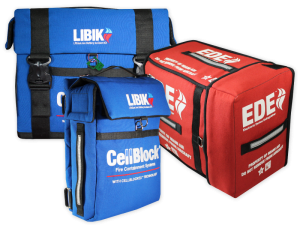 Protect and empower your crew in a battery fire situation with LIBIK fire suppression tools.
Look twice. This is way more than a lithium battery bag.
No product on the market gives you more tools for in-place fire containment while simultaneously reducing toxic smoke and hazardous fumes from lithium-ion battery fires. The LIBIK is an incredibly robust solution that owes its effectiveness to CellBlockEX, an innovative dry granulate that is able to quickly extinguish thermal runaways in lithium-ion batteries and uptake vapors without the use of halon or liquids.
Extinguish personal electronic device (PED) fires in seconds.
Integral to the LIBIK bag design are our patented PED-Pad fire suppression pillows filled with CellBlockEX. When necessary, these pillows may be removed and applied directly to the fire. Deployment of the loose-fill granulate is automatic and fast. A FireShield blanket can also be used over the top of the pillow to further suppress the event.
The PED-Pad pillows have proven useful in difficult-to-extinguish areas such as overhead bins and seat pockets.
Safe. Simple. Effective.
The original LIBIKs are the gold standard in Fire Suppression Kits. Originally developed for the airline industry, these kits have seen use in virtually every industry impacted by battery fires.
Highly effective inflight suppression and containment
Nothing is more important than the welfare of crew and passengers. The LIBIK bag is capable of suppressing and containing any thermal runaway event. FAA Guidance clearly says "do not move the PED": you must suppress before you contain. The LIBIK effectively addresses this concern and embodies the safest and simplest means of extinguishing a lithium-ion battery fire while minimizing exposure to toxic smoke and vapors.
See also: Is the LIBIK FAA Certified?
Tested Extensively In-house and by Third-party Laboratories.
Non-hazardous Environmentally Friendly Product.
Lifetime Replacement on Fire Suppression Bags used Inflight.
No Water or Halon required.
Click on a Product to Learn More: