CellSafe Battery Kits for Recalls and Recycling
The Safest and Greenest Recall Packaging on the Planet.

Perfect for Warranty Returns and Reverse Logistics.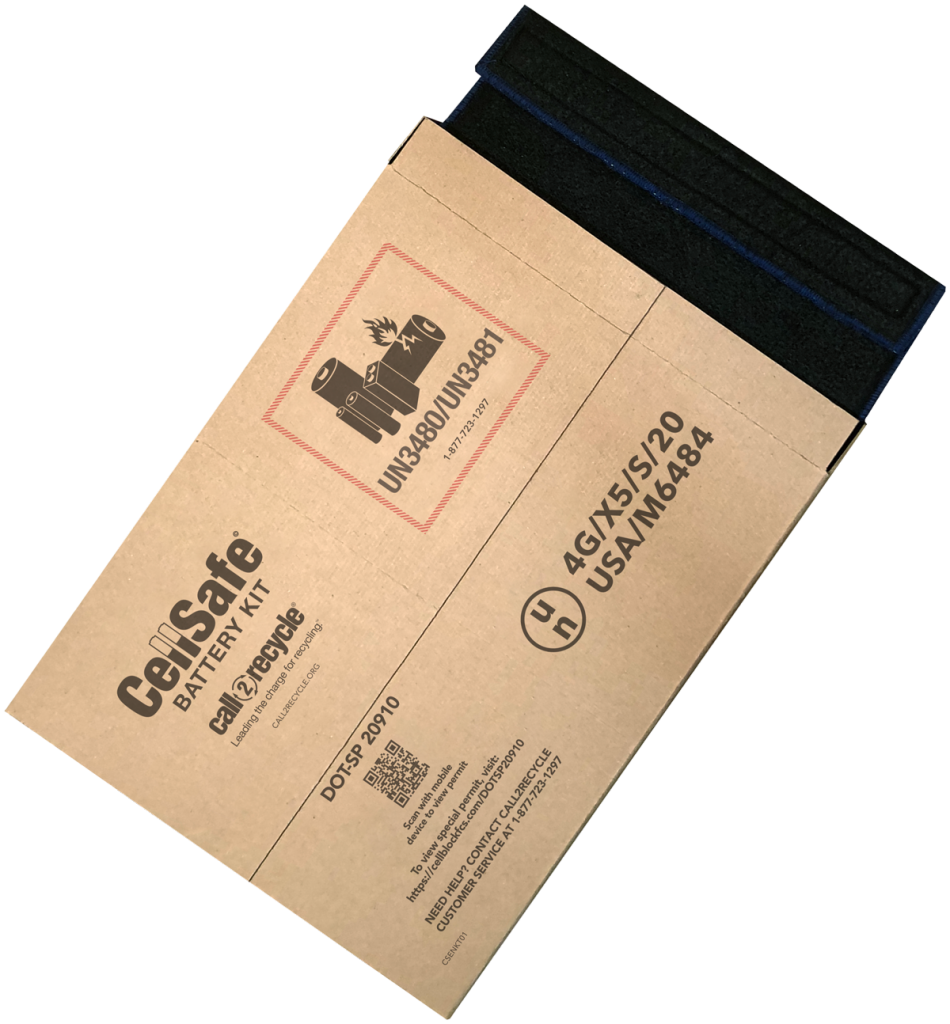 The CellSafe Envelope Kit
Cost Savings + Incredible Protection in one Neat Little Package.
The CellSafe® Battery Envelope Kit offers engineered protection from thermal runaways in a thin textile envelope. Perfect for consumer recalls, this special permit packaging kit is durable and reusable, contributing to costs savings.
Green and reusable packaging as part of your supply chain. The textile envelope may be reused several times throughout a volume recall. Only the outer box will need to be replaced.
Ideal for DDR batteries.
Special Permit Authorized.
Tested and certified to contain up to 185Wh.
Simple Implementation
No CFR training required.
A to Z fulfillment and seamless supply chain integration.
Available in two sizes to accommodate laptops, tablets and phones, or other lithium batteries. Inquire about custom sizes.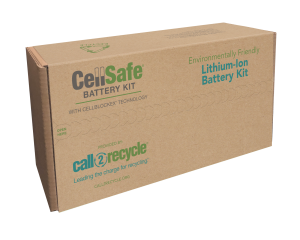 The CellSafe Box Kit
A Safer, Greener Solution.
CellSafe® Battery Box Kits provide a shipping solution capable of safely suppressing battery fires. These battery shipping boxes use CellBlockEX technology, which is proven to halt propagation in lithium-ion fires.
Tried and Tested and Proven to Work*
Third-party tested and certified to contain up to 300Wh.
Special Permit Authorized.
Sustainable and Cost-Effective
The innovative pillow-pack may be reused multiple
times before replacement is needed.
Fire suppression is provided by CellBlockEX, a 100% post-consumer recycled product
Simple Implementation
Easily customized to accommodate various device or battery sizes.
No CFR training required.
A to Z fulfillment and seamless supply chain integration.
Battery and Device Disposal and Recycling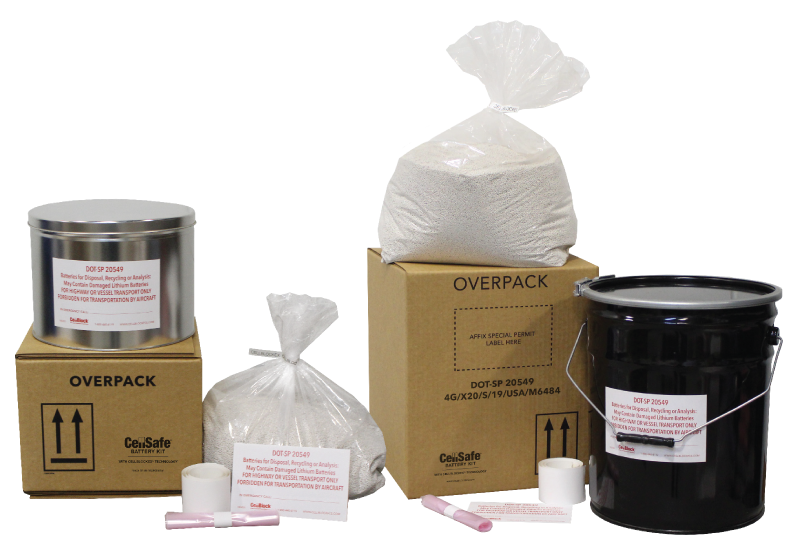 CellBlock Pails
Ship with Confidence.
CellSafe Battery Pail Kits are a safe solution for the collection, storage and shipping of lithium-ion batteries. Using CellBlockEX technology, they provide green, reliable protection from thermal runaways. Kits are a DOT special permit qualified answer for DRR services and battery recycling programs.
Special Permit Authorized.
The safest bulk transport solution for shipping damaged and spent batteries.
Cost Effective Packaging
Ship up to 5kg damaged/defective in CellSafe pails, or use CellBlock Drums to ship up to 60kg!
NO inner packaging or terminal protection when instruction requirements are followed.
Comingle DDR and non-DDR lithium-ion batteries.
CellBlockEX may be recovered and reused or recycled.
Simple Implementation
No CFR training required; simple step-by-step instructions.
A to Z fulfillment and seamless supply chain integration.
An off-the-shelf solution.
Fire Suppression Powered by CellBlockEX
CellBlockEX is a proven dry fire-suppressant
capable of halting thermal propagation
in devices, batteries, or cells. It's what makes
our battery shipping boxes and kits safe, reliable, and effective.
Made from 100% recycled glass.
Lightweight and absorbent.
Free from crystalline silicate and asbestos.
Sustainable.
Effective Mitigation
CellBlockEX and the CellSafe Battery Kit have undergone a thorough testing and certification process.
In a collaborative study with the UL and Stress Engineering Services, CellBlockEX was demonstrated to halt propagation in lithium-ion fires.
CellSafe Battery Kits have been tested with the most volatile cells commercially available. In tests designed for full propagation of multiple cells, package integrity was uncompromised and external box temperatures remained well below the combustion rate for fiberboard.